As in most countries over the world, France held its breath during its "nuit américaine" and after a few hour's sleep – or no sleep at all – awoke in an unusual if transient mood of elation and happiness.
The much loved french satirical weekly Le Canard Enchaîné, which appears Wednesdays, closed before election results, so they for once decided to trust the polls and took a winning bet on Obama, with headlines in their traditional pun-style: "America is no longer afraid of the Dark – Happy Hour"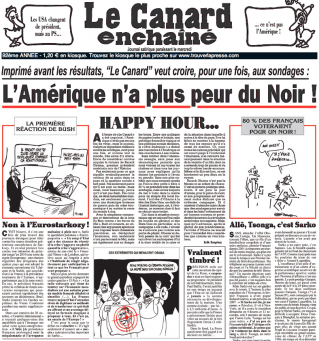 The French support committees for Obama were of course overjoyed. France for Barack Obama blog, under the title Yes we did, wrote:
Un nouveau jour s'ouvre pour les Etats-Unis et pour le Monde (…)
Depuis un an, tous ensemble nous nous sommes mobilisés pour soutenir cette candidature historique. Un an de travail, d'implication, de débats, de rencontres et d'engagement pour arriver à  ce jour, ce premier mercredi de novembre (…)
A new day opens up for the U.S. and the world (…) All together, we have been joining forces for a whole year, to support his historical running for election. A year of work, involvement, debates, meetings and commitment to get to this day, this first Wednesday of November (…)
The Barack Obama's friends in the city of Lyon website proclaims: "Overwhelming victory of Barack Obama, first Black President of the U.S" and proudly posts Obama's letter of thanks for their efforts:
Dear friends of Lyon's support committee–

I'm about to head to Grant Park to talk to everyone gathered there, but I wanted to write to you first.
We just made history.
And I don't want you to forget how we did it.
You made history every single day during this campaign — every day you knocked on doors, made a donation, or talked to your family, friends, and neighbors about why you believe it's time for change.
I want to thank all of you who gave your time, talent, and passion to this campaign.
We have a lot of work to do to get our country back on track, and I'll be in touch soon about what comes next.
But I want to be very clear about one thing…
All of this happened because of you.
Thank you,

Barack
Even bloggers who do not usually bother about politics coud not resist expressing their pleasure, as Eolas, blogging on R@ZEM OD 1957, saying:
Il y a des matins comme ça….. ou on a juste envie de chanter.
There are mornings like that…when you just feel like singing
And indeed, he posts a video of "the huge, tremendous Marvin Gaye singing the US anthem, 1983."
And Myloubook, "column of a young reader," writes:
Congratulations, Senator Obama ! YES WE CAN" :
Je n'ai jamais voulu parler politique sur ce blog mais je ne peux résister au plaisir d'afficher aujourd'hui la photo du prochain Président des Etats-Unis (…) Après deux énormes désillusions, je suis aujourd'hui très émue et extrêmement heureuse devant la victoire démocrate et particulièrement symbolique de Barack Obama.
"I never intended to talk about politics on this blog but I can't resist today posting the picture of the next President of the U.S. … After two huge disillusions, today I feel very excited and extremely happy at the democrat and specially symbolic victory of Barack Obama. I, who sincerely love the U.S., feel full of hope for this country (…)
Of course, the racial issue is in many minds: the ESJ (Ecole Supérieure de Journalisme) students blogging on the 20minutes website debate the topic "Is Obama black?":
"Trop" noir pour les uns, "pas assez" noir pour les autres, la question de la couleur de peau d'Obama aura quelque peu pourri le débat présidentiel. Le camp républicain, tout en se défiant bien de tomber dans les attaques racistes, aura joué à  fond la carte des "origines" du sénateur de l'Illinois. Et Barack Obama s'en est plutôt bien tiré.
Too black for some, and not black enough for others, the issue of Obama's skin color somehow spoiled the presidential debate. The Republican side, while defiantly lapsing into racist attacks, played thoroughly the card of the Illinois senators' "origins". And Obama coped quite well with that.
The post then quotes and comments Barack Obama's autobiography, The Audacity of Hope.
Political analysts won't deny a good thing but already bring up the heavy tasks awaiting the next President.
Je suis belge mais je me soigne ("Im belgian, but I try to cure my self"), blogging at the "Monde" website, writes :
Les Américains ont enfin compris à une très large majorité que huit ans de bushisme, ça suffit. Mais ne nous leurrons pas, le pays est toujours bien divisé puisque la plupart des Etats du centre et du sud sont restés "rouges".

L'ampleur de cette victoire est néanmoins un signal fort du peuple américain, c'est un choix de société sans équivoque et sans aucune contestation possible. Espérons que Barack Obama ne décevra pas et que sous sa tutelle les Etats-Unis redeviendront un partenaire loyal et constructif des Européens.
The American people at last realized in very big majority that 8 years of "Bushism" were enough. But we must not delude ourselves, the country remains divided, as most of the center and southern states remained "red."

However, the sheer size of this victory is a strong signal by the American people, it is an unequivocal societal choice which bears no contesting. Let us hope that Barack Obama won't disappoint and that under his leadership the U.S. will turn again a fair and constructive partner to Europeans.
Nearer to the U.S., from Quebec, les 7 du Québec writes, under the title: "America prefers Obama the centrist to the troublemaker McCain":
(…)Ne nions pas la joie que nous éprouvons à  l'idée de voir disparaître une administration qui a marqué les esprits de la pire opinion qui se puisse trouver sur cette planète. Ne rejetons pas le plaisir que nous éprouvons à  la victoire de Barack Obama, plus un centriste qu'un homme de droite. Quoique … Ne soyons toutefois pas dupes. Cette victoire ne sera que de courte durée. Il faut éviter de céder, à  travers ce moment historique, au chant des sirènes qui ne nous mènera que vers des déceptions et de grandes désillusions.(…)
(…) Don't let us deny the joy we are feeling at the thought of seeing the removal of an administration that marked minds with the worst opinion to be found on this planet. Don't let us reject the pleasure we feel at Barack Obama's victory, more of a centrist than a right wing man. but then…don't let us be taken in. This victory will be short lived. Even in this historical moment, we must beware of listening to the sirena's song that is goind to lead us to disappointment and big disillusions. (…)
The post then thoroughly discusses Barack Obama's policies on all domestic and foreign issues awaiting the new President, and points out:
Barack Obama a beau être adulé de par le monde entier, il hérite d'un pays en ruines. Les États-Unis sont endettés comme jamais auparavant et sont empêtrés dans des guerres sans issue à court terme.
However much adulated by the whole world, he inherits a ruined country. The U.S. is in debt like never before and are mixed up in wars that are dead ends in the short term.
And finally, the post lists the lobbies who supported Obama, commenting :
Ce qui contredit quelque peu l'adage selon lequel, globalement, les républicains roulent pour les riches et les démocrates pour les pauvres.
This refutes a little the saying that the Republicans are for the rich and the Democrats for the poor.
While the EU is polishing its new partnership offer on their side of the Atlantic, let's conclude with a link to a welcoming poem in Creole by Mauritius poet Tahir Hussen Pirbhay: "Premye Prezidan Nwar."