African-American politician Barack Obama's White House victory is seen as their own triumph by many in the world. But what does the marginalized and invisible world – the Fourth World – think of America's first multicultural president? Indigenous peoples offer watchful hope for change; many adopt the spirit of "Yes we can."
Back in January 2008, when most pundits considered Hillary Clinton the inevitable Democratic nominee for presidency, Fourth World Eye posted a statement by the Center for World Indigenous Studies:
US Senator Barack Obama is a student of political science, international relations and American law. He is a leading candidate for the presidency of the United States of America and he is the son of Barack Obama, Sr., of the Luo tribe in western Kenya. What will President Obama's American Indian Policy be when he announces it in the Fall of 2009? What will President Obama's policy be toward other Fourth World nations in the world…including those presently being shot and bombed in Iraq, Iran, Colombia, the Philippines and in Indonesia? In less than a year we will know how a Luo President of the United States handles nations in the Fourth World.

[…]

A Luo may well become the President of the United States. He will have a special duty to the world to bring clarity and focus to US Indian Policy and its Fourth World policies elsewhere in the world. The world deserves a president who will recognize the powerful realities in small places that affect peace and security for us all.
A few days after Barack Obama's victory, indigenous communities around the world are celebrating hope. Songlines posts news about Australian indigenous leader Patrick Dodson who, encouraged by Obama's victory, has "called on young Aborigines to participate in government strategies aimed at bringing more indigenous people into the nation's workforce."
Some Australian activists for indigenous rights are already adopting the slogan of "Yes we can:"
We can do it! We can make a difference. Professor Fiona Stanley told Fran Kelly on Radio National's Breakfast that she plans to end the annual Hawke lecture she is giving tonight at the Adelaide Town Hall, with Obama's words of hope, "We can! We can! Yes, we can!" Former Australian of the Year, Founding Director of the Telethon Institute for Child Health Research and Professor in the School of Paediatrics and Child Health in WA, Fiona Stanley will give the address she has titled "The Greatest Injustice: Why we have failed to improve the health of Aboriginal people".
An indigenous blogger from Canada writes:
American Indian voters, especially those who support Obama, should seize their right to vote like never before and embrace political participation as a new ethic. I am certain that First Nation voters will make a noticeable difference in the future both in the United States and Canada. I am confident that the election of Barack Obama as the next President of the United States will change how minorities are viewed around the world. Way to go BARACK!
Canadian indigenous leader Patrick Brazeau is also encouraged. Blogging at Phantom Observer, he asks:
Now that Americans have voted for Barack Obama, can we ever expect that an Aboriginal person will be elected as Prime Minister of Canada? If so, how long will it take and if not, why not? Americans did it, why can't we?
One country, Bolivia, has already made the precedent. According to one blog:
"Evo Morales… called Obama's election 'historic.' As Bolivia's first indigenous President, Evo Morales knows a thing or two about historic elections…."
An indigenous blogger from New Zealand reports:
A Maori with a long family association with the American civil rights movement says Barack Obama is an inspiration to indigenous people around the world.

Willie Jackson who has visited the US many times and met with civil rights leaders says Obama's election is being celebrated across Maoridom.

He says it could be an ins[p]iration fo other ind[i]genous leadership to come through [a]round the world.
While many are writing about their unprecedented hope, others are writing directly to Obama. The National organization of Indigenous Peoples of Colombia, according to a blog post, is mailing a letter to Obama urging for fair, not free trade and asking him about his position on the United Nations Declaration on the Rights of Indigenous Peoples.
In 2007, after more than a decade of indigenous activism for this particular document, the United Nations passed the Declaration on the Rights of Indigenous Peoples. Only four countries voted against the Declaration: Australia, Canada, New Zealand, and the United States.
But within a year after voting against the Declaration, both Australia and Canada apologized to their indigenous peoples for forced assimilation. In June of 2008, Japan joined the momentum by recognizing the Ainu community as an indigenous group. Many wondered if the Unites States would be next.
While Native Americans are United States citizens, they are also considered part of the Fourth World – the Earth's often invisible indigenous peoples who are concerned with issues of health, environment, and preserving their traditional ways of life. In a way, Native Americans don't have much voice in the United States. That's largely because the "one person, one vote" form of democracy doesn't always adequately reflect the ideas of the aboriginal people who didn't really give consent to become part of the United States. But in 2008, Native America seems excited about the US elections more than ever.
Turtle Talk, writing hours before the US elections polls closed, praised two indigenous activists:
I could not let this election pass without a word on two good friends and the jobs they have done over the past two years. Wizipan Garriott (Sicangu Lakota) and Nicole Willis (Cayuse, Yakama, Nez Perce, Oglala Lakota) have been heading up Barack Obama's Native Vote Operation since 2006. They have traveled the country and worked countless hours to turn out Native voters for Senator Obama's campaign. They were with Senator Obama long before his victory was a sure thing – way back in 2006 when Hilary Clinton was still the "inevitable" Democratic Nominee. Their efforts have helped Barack Obama generate unprecedented enthusiasm in Indian Country for the Presidential race, and just may make the difference in several key states. Regardless of the outcome of today's election, Wizi and Nicole deserve great applause (and rest) for their efforts. Miigwetch!
Encouraged by the Obama victory, another Native American blogger asked young members of the community to think about the next American Indian president:
Dr. Martin Luther King, Jr. would be proud today: November 5th, 2008. The country elected it's first black American yesterday. Our nation took a giant step in its history. This left me with a big question, though: Where are our "First American" candidates? Where is our "First American" President?

This is a direct challenge to our Native American youth: Stand up. Start today. Become involved in our nation's political process on all levels. The election of Mr. Obama proves that "ANYTHING" is now possible in this Nation. Let this be a message -a call- to our native youth, proof that "they too can be whatever they strive to be." I want this to stand as a direct challenge to each of them, to rise up and find the true warrior – the leader within them! Step up and have an impact on this nation.

To our young, bright Native American women: perhaps the next President should be a Native American woman! But whether it is one of our young men or women, as "First Americans" we need to rise up. In elections past, Native Americans have been brought to the White House"to bless ceremonies, to dance… to perform" for sitting or newly elected Presidents. How about we put a "First American" in office and "bring in our own entertainment?"
Indigenous politics Professor Glenn Morris (Shawnee) is exited too, but he is also cautious. In my Blogian, I interview the director of the Fourth World Center for the Study of Indigenous Law and Politics at University of Colorado Denver.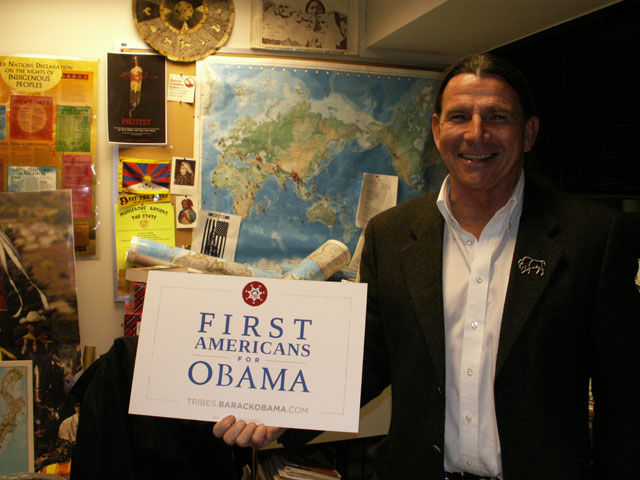 Morris says he is happy that he has been proven wrong about his prediction that racism wouldn't let Obama get elected. He's worried, though, about false perception of overcoming racism.

The professor says that there are different Indian voices in the elections. But the Navajo nation, explains Morris, had a role in delivering Mexico (and almost Arizona) for Obama. And while the restless activist says he's excited about Obama's idea to have a presidential adviser on Native American issues, he hopes that "Native participation will translate into policy." In Canada, for instance, the federal government often makes decisions affecting aboriginal communities by consulting with the First Nations. Morris thinks that consent, not consultation, should be the level of such communication.

Was the Native vote numerically or symbolically important for Barack Obama? Morris says Obama's outreach to Americans Indians was "partly personal, partly ideological, and partly tactical."

Obama "may not understand [Native American issues] entirely," says Glenn Morris, but America's 44th president seems the only leader so far "who may kind of get it."
According to triBaLOG, over 80% of Native American voters have cast their vote for Obama. Even a life-long Republican indigenous leader (and a friend of McCain) voted for Obama. In the words of W. "Ron" Allen:
For the past 30 years, I have had the privilege to serve as the Tribal Chairman of the Jamestown S'Klallam Tribe, and for the past 25, I have served as their Executive Director. I have been committed to several of our national and regional organizations and over the years it has been by honor to serve as President and as Treasurer for the National Congress of American Indians.

Throughout all of this, I have been a member of the Republican Party. I was honored to serve as a member of John McCain's advisory committee for Native American issues. While I remain a personal friend to John McCain, my commitment to Indian Country must guide my actions.

As a result, I will not be voting for my party's nominee on November 4th. I have engaged in a great deal of heartfelt deliberation with respect to who would be the best leader for our nation including their platforms, campaigns, position statements and commitments. I have decided to endorse Sen. Barack Obama. I believe he does represent true, sincere and positive change for Indian Country.

I have informed the McCain campaign of my decision. I strongly believe that Sen. Obama has shown leadership and foresight on issues impacting tribal communities and an unprecedented commitment to working with tribal nations. It is truly rare that a candidate comes along who shuns the status quo and is dedicated to fundamentally changing federal Indian law and policy for the betterment of tribal communities. Sen. Obama is that candidate.

[…]
Obama's election has also given hope to Leonard Peltier, an imprisoned American Indian activist. Writing to his supporters in a letter posted on several blogs, Peltier said:
Last night a change in this country took place that not too long ago many people said would never happen. An African-American was elected to the White House and by a major landslide, which gives him a mandate by the public to fulfill his promises. This landslide indicates the people have placed their hope with this man they call their president for a change in this country.

[…]

…I am now 64 years old and coming up on my 33 year of being confined and fighting for justice and my freedom, Obama may be my last chance at securing my freedom.
Hope has elected Awe Kooda Bilaxpak Kuuxshish the 44th president of the United States of America. That's Barack Obama's adopted Crow nation name that means "One Who Helps People Throughout the Land." Will Obama become the first American Indian president and a leader of the indigenous world?